One of the only 100% Organic, 100% Eco-Friendly & 100% Biodegradable
option available in the industry
NATUREPRESS products are organically sourced and made in India from fallen leaves of Areca Palm trees without any destruction of those trees. Being directly made to shape from such natural palm leaves in a naturally driven making process, our plates and bowls become 100% natural, biodegradable, compostable and creatively designed eco-friendly disposables for a variety of meal purposes and a wide range of occasions with family, friends and guests. Each finished plate comes with natural texture and natural colors of the leaf. Once disposed, these products biodegrade in less than 60 days into the environment and even make the earth's soil compostable if planted.

PROCESS IN A NUTSHELL
How it's made
Ethical, vegan and cruelty free products are our speciality. All of our products are ethically sourced & cruelty free and we have also categorized every product on our shelves so you can shop vegan only with our easy to use drop-down filters. Our vegan makeup primers are ideal for perfect base.

Washing & Cleaning of Leaves

Sun drying of Washed Leaves

Heat Pressed to Give Shapes & Size

The whole process from sourcing to making it again and again has no harm to the nature and at the very same time, it help improve our eco-system as a whole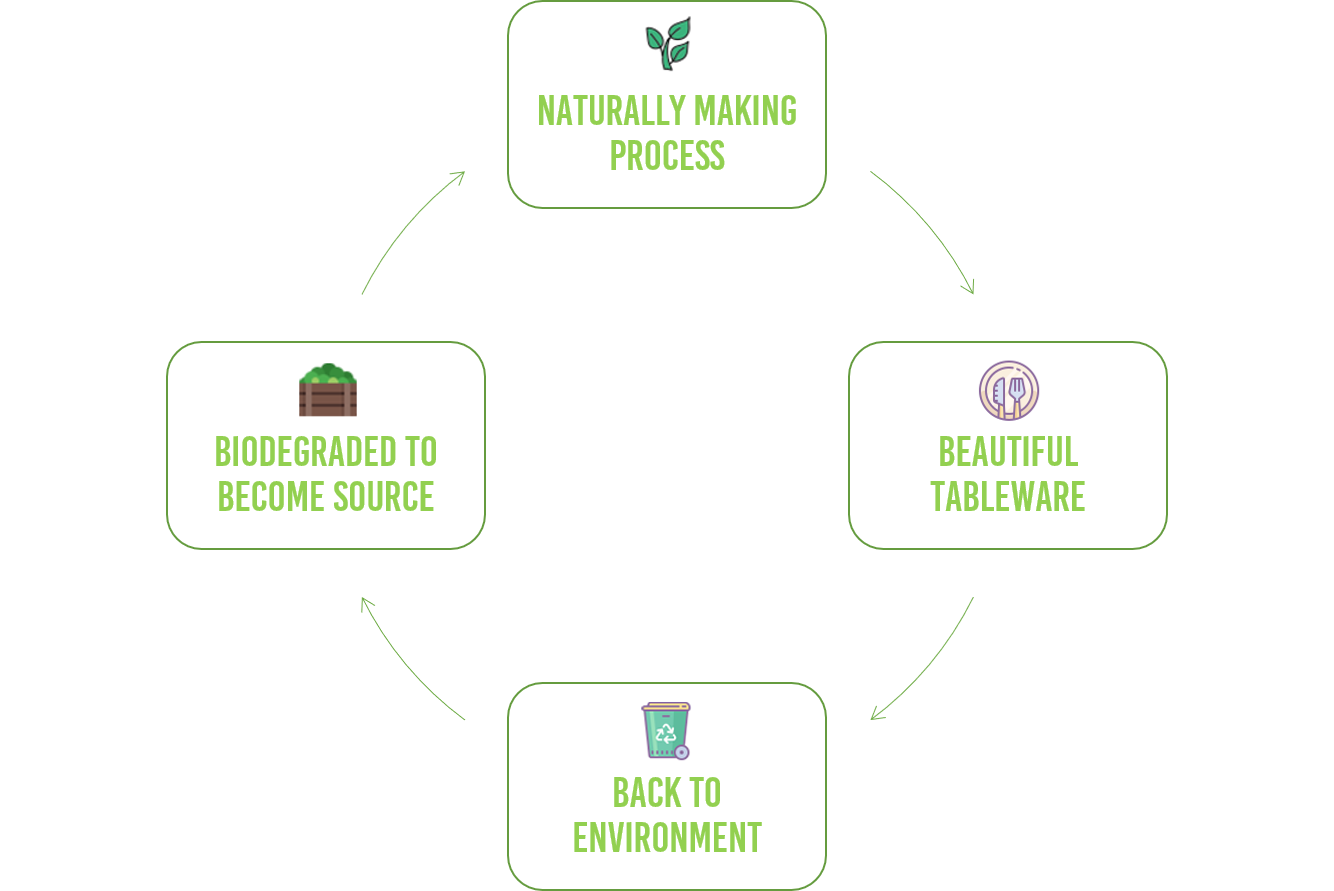 In the making & creation process, the remnant portion of the leaves used are purposed to be used for cattle feed as natural fodder
NATUREPRESS range of plates, bowls and other palm leaf tableware are creatively designed to variety of beautiful shapes and sizes for households, cafes, restaurants, hotels, motels, food trucks, bistros etc. and suitable for a variety of occasions - weddings, parties, events, conferences, camping etc. These products are a great balance of Convenience, Elegance and Sustainability when it comes to disposable tableware.
Natural Crockery for Dining

Each finish unique to its original leaf
Elegant & Upscale look & feel

Stands up to forks & knives

All-weather & All-climate use
Natural wood-grain finish

Friendly for both Indoor & Outdoor Dining
Beautiful leaf Colors & Textures

Lightweight Portable & Travel-friendly

Great Conversation Starter Across Venue Settings






Eco-Friendly & Biodegradable,No Recycling needed




Replaces the need for dishwashing at Events

Be it anywhere, anyplace, any occasion
Serve in Style
Our Palm Leaf Tableware can be used to serve in elegance and style across any kind of indoor or outdoor dining environment or events and venue settings.
You can serve your guests with soup, appetizers, salads, main course, desserts, hot and cold liquids and much more in our wide range of tableware. NATUREPRESS Areca Palm Leaf Products are microwave and refrigeration safe, are sturdy for using fork, spoon & knife, and at the same time also light weight and easily disposable without any adverse effects to the environment. In a great way, these natural dinnerware help reduce and save water resources for homes and venues alike, which otherwise is substantially consumed in cleaning and washing of conventional crockery.
NATUREPRESS Areca Palm Leaf disposable tableware are 100% chemical free and free from any artificial coatings i.e. the natural leaf is directly used to create the plates and bowls of various shapes and sizes thereby retaining the original leaf's natural colors and texture.The tableware is fully safe for food and liquid contact, easy to use and easy to dispose. NATUREPRESS Areca Palm Leaf disposable tableware are naturally microwave and refrigeration safe material and are light-weight-yet-sturdy for use with fork, spoon and knife for wide variety of food, snacks and dessert servings.
NATUREPRESS Areca Palm Leaf disposable plates and bowls are a perfect solution to drive environment sustainability and protection by offering a great alternative to plastics, thermo-foam, paper based disposable products which otherwise take longer time to biodegrade upon disposal and pollute the environment. Whether used at home or at parties, events or festivals such as Christmas, Thanksgiving etc., just use and dispose them off as one would do with any other disposable product or plant them in the backyard soil for compost. Additionally, these natural dinnerware help save significant water resources for the environment through offsetting the need for cleaning and washing of large number of conventional crockery at gatherings, parties and events. This further brings down the need for recycling of water that is disposed from such cleaning and washing.